Favorite Calendar of Holiday Markets in Dripping Springs
Finding the perfect place to be for family fun during the holidays! Whether you're searching for an exciting adventure or just looking for a great time with your family while Christmas shopping in the Hill Country. Dripping Springs has weekly events like live music, art shows, farmers markets, and even activities for kids. Plus, there's always plenty of delicious food and beverages to enjoy – especially if you enjoy BBQ!
We are featuring the best of the best when it comes to Christmas markets in Dripping Springs – Once referred to as 'Pound Town' or 'The Drip'. Whether you're looking for an action-packed adventure or simply want to spend time with friends and family, come visit us at the Dripping Springs Market Events! We guarantee you won't regret it.
Perfect for your holiday shopping needs! Plus, entry is free, and all ages are welcome. My Favorite part of this market is that I get a vodka drink and then shop for my favorite family members and my besties.
Annual Tree Lighting & Christmas Movie Night
Veterans Memorial Park 151 E Mercer St. Dripping Springs, TX 78620
For locals in Dripping Springs this is a yearly tradition. Christmas on Mercer Tree Lighting! On December 1st – at dusk, take part in a magical evening of music and cheer at Veterans Memorial Park in downtown Dripping Springs. Be dazzled as you witness the lighting of the majestic Christmas tree, followed by a captivating performance from the DS Middle School cheer squad and carols sung by the Sunset Canyon Baptist Church Choir.
Once the tree-lighting is complete, grab a blanket and chair and head to Stephenson Field for an outdoor showing of "The Santa Clause"! Enjoy the evening strolling along Mercer Street while marveling at the seasonal spirit. With limited parking available on Mercer Street and side streets, make sure to come prepared with warm clothes and your very own chairs and blankets.
SkinBar Med Spa of Dripping Springs – Grand Opening
11190 Circle Dr #103, Austin, TX
SkinBar's grand opening at their new Med Spa! SkinBar originated in Dripping Springs right accrossed from Belterra is now located a bit closer to Austin – but close enought to Drip – to include it on our list. Join SkinBar and experience all that SkinBar has to offer in Med Spa services. There will be discounts galore on services, delicious hors d'oeuvres, and refreshingly clean crafted wine – plus hourly giveaways, so make sure you stick around for the whole celebration! And as if that weren't enough, Newly opened BeJuled boutique is offering 10% off all merchandise – so don't miss out on these amazing deals! Join SkinBar's Grand Opening On Dec 1 from 2-7pm – and discover the secrets to unbeatable wellness and well-being.
A Special Elvis Appearance and Photos with Santa at Suds Monkey Brewery
12024 US-290, Austin, TX (512) 222-3893
Santa from the North Pole is making a special appearance at Suds Monkey Brewery on November 25th from 11-2pm. Getting those family photos with Santa early is important especially if you want to send them as Christmas Cards. The winter-themed backdrop is the perfect setting for getting into the holiday spirit and getting the perfect family shot with Santa. So grab the family and head down to Suds Monkey Brewery, where you'll get to celebrate the holidays with Yummy Beer and Delicious Pizza.
Christmas on Mercer in Dripping Springs
Main Street on Mercer – Downtown Dripping Springs – Dec 2nd
Visitors to the charming town of Dripping Springs will be delighted by the nineteenth edition of Christmas on Mercer Street. Experience a festive transformation of the downtown area as it plays host to an array of attractions perfect for the whole family. From holiday shopping and arts and crafts booths to live entertainment and petting zoo, there's something for everyone to enjoy. Kids can ride on the trackless train or pony rides, participate in children's activities, and even see Santa Claus himself! Each year culminates with a spectacular Lighting of the Tree ceremony that is not to be missed. Join the fun and festive cheer of Christmas on Mercer Street for a magical holiday experience!
Our friend (and #1 realtor in Dripping Springs) Ashley Tullis, is bringing some merriment and cheer to Christmas on Mercer, too! Make sure to bring the kiddos – Santa's Mailbox will be open for business! Send a letter to the North Pole requesting whatever your heart desires and receive an exciting, personalized response from Santa himself. There will also be plenty of other festive activities, like caroling, gift wrapping, and hot cocoa sipping! So spread some holiday joy this year and join us at Christmas on Mercer!
Volunteer for Christmas on Mercer! It's the perfect opportunity for people of all ages – bring your friends, family, and neighbors and have a blast working together to make this holiday season extra special. Plus, you'll get a free Christmas on Mercer T-shirt for your hard work! So don't wait – join us today and be part of the festivities!
Vintage Market Days of Greater Austin
Dripping Springs Ranch Park & Event
1042 Event Center Dr Dripping Springs, TX 78620
Vintage Market Days made it to Dripping Springs again this holiday Season. This is one of the biggest holiday fairs in Our little hill country town.  They do all they can to "Pile on the Merry" at Dripping Springs Ranch Park and Event Center on December 2nd-4th. This experience is sure to be like no other, with stunning vintage and unique home decor, boutique clothing, handmade gifts –– oh, and of course delicious food trucks and live entertainment.
From what I see – if you use the code FALL now through Friday (not sure date), you can join us at a discounted rate. Pre-sale ticket available online.
Hill Country Holiday Bazaar at Caliterra
Caliterra Clubhouse
505 Wynnpage Drive, Dripping Springs,Tx 78620
The 6th annual Holiday Bazaar at Caliterra in Dripping Springs is just around the corner.
The smell of handmade candles and the sound of Christmas cheer filled the air as the crowds gathered at Caliterra in Dripping Springs for their annual Caliterra Christmas Bazaar. The clubhouse will have music, laughter, and hourly prize drawings. There will be food trucks and beer samples from a local brewery. There will be over 30 vendors with marvelous handmade crafts like jewelery, candles, ornaments, clothes, candy  and so so much more.
The highlight of the event was undoubtedly the wide variety of gifts available to choose from for your Christmas shopping. You could also find a wide selection of locally made pottery and art for a truly unique holiday experience. All the vendors will be local artist and craftsman.
'Tis the Season Market Info 2023 – Holiday Market & Craft Fair
NuttyBrown Artist Co-Op – 12919 Nutty Brown Rd Austin, TX 78737
Hand Made at Nutty Brown is proud to be able to offer customers something truly unique. Products have been carefully crafted with a commitment to quality, and each item has its own special story to tell.
At Hand Made at Nutty Brown – there are at least two artist that are working in the very little shop – you can meet and talk about their handcrafter work that they are selling. The store is itty bitty but sure packs a punch when it comes to gifts for sale and all displayed very nicely.
When driving South on Nutty Brown – take a LEFT when you see the hammer mailbox – You cant miss it! I've read that they have a cafe – but have not see it when driving by. Maybe asking them about it.
Christmas Market with Santa Photos at 12 Fox Beer Brewery
12 Fox Beer Co. – 4700 W Fitzhugh Rd Dripping Springs, TX 78620
Giddyup, y'all! It's that time of year again – Holiday Shopping and Photos with Santa at our local shops on December Sat 9, 12 – 5 PM & Dec 10, 12 – 5 PM. Get your littles suited up and head on over to Fox12 Brew we'll have Country Cowboy Santa showin' up from 1-4pm. He'll be moseying around right at 12:50, so you won't wanna miss out!
It's the perfect opportunity to get festive while supporting small businesses and local breweries. Do you feel like a nice outing before all the holiday hustle? Don't forget to grab some holiday pics with our very own Country Santa, too! Saddle up and join the country Brew Crew at 12 Fox.
Holiday Market and SPON Day
Jester King Brewery – 13187 Fitzhugh Road Austin, TX 78736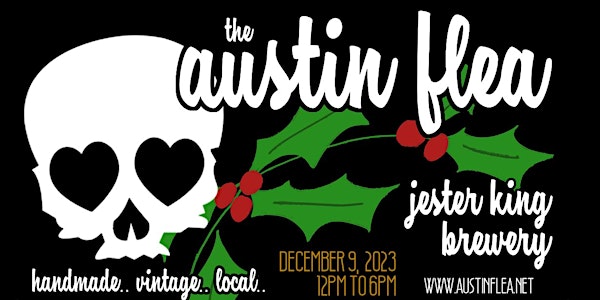 Friends in Texas Hill Country, grab your wallets and prepare to go on a shopping spree on! Join us at Jester King Brewery for the Austin Flea—the ultimate shopping destination for all things local. Located just west of Austin on old Fitzhugh Rd.
Whether you're looking for jewelry, hemp-based products, vintage fashion, original artwork, bath/body goods, homewares, candles or more, we've got it all on December 9, Saturday 12 – 6pm. And if that doesn't have you reaching for your wallet yet, wait till you hear about this year's special beer release from Jester King. SPON: a three-year spontaneously fermented blend! So what are you waiting for? Shop local and support local by coming down to the Flea. See you there!
Cocoa And Cuddles for Christmas at Suds Monkey
12024 US 290 (across from Belterra Village at Nutty Brown) Austin TX 78737
Who wants to party the night away with some adorable baby goats? Come to Suds Monkey for a unique and fun experience –
goat snuggling and Cocoa
! The goats will be dressed up in festive outfits, perfect for getting you into the holiday spirit. This happens before you need Christmas Therapy on
Sunday Dec 11 at 2:30pm
. And don't worry about getting hungry – they'll have hot chocolate to go with some yummy pizzas. This is one of my favorite places in Dripping Springs – Suds Monkey.
More Dripping Springs Events
Dripping Springs Realtor, Ashley Tullis posts an event listing every week on her Facebook Page. I highly recommend it if you live in the area and are looking for something to do this weekend. The Dripping Springs Chamber of Commerce also hosts a community calendar, although I find theirs a bit redundant.  A lot of the listings are recurring listings, so it's hard to see what events are happening this weekend in Dripping Springs.